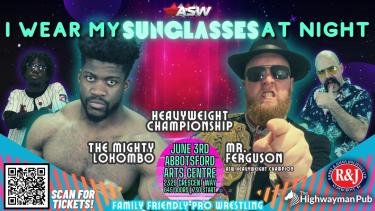 All Star Wrestling
-
Community Arts Addition
All Star Wrestling is thrilled to host another evening of family friendly Pro-Wrestling here at the Community Arts Addition!
"I WEAR MY SUNGLASSES AT NIGHT"
Doors:  6:45 pm Bell Time:  7:30 pm
On Saturday, June 3rd a home-town boy will get a shot at the ASW Heavyweight Title! 
The DEVIOUS MR. FERGUSON, Accompanied by PAYDAY PESKY, defends the 20lbs of gold against LEON LOKOMBO, flanked by SAD BOY DENZEL MUSIC.  The Unscrupulous vs the Mighty! Live!!
Are you ready for Hollywood vs Bollywood?
THE BOLLYWOOD BOYZ will have their hands full against Double Impact (ROOK JOSEPH KELLY and PITFALL JONES) when the ASW Tag Titles are on line.
Hometown boy TODD QUALITY, accompanied by SETH BELL, will defend his home turf against Vancouver Island's BI LAREDO! Two bulls of the woods will butt horns in this one!
TICKETS:  Front Row - $30   General Seating - $20  Kids under 12 yrs - $12
At ASW I Wear My Sunglasses at Night, we are partnering with Mama's Fish and Chips to feed all of the hungry wrestling fans
How 'bout some fish n' chips? We will have
Mamasfishandchips.com with us at the Community Arts Addition on June 3 at 7:30PM!